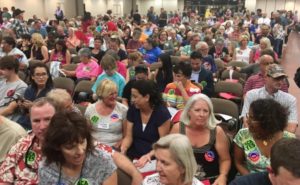 Town Hall meeting during spring recess
Photo from MoveOn.org
About 24 nations provide free college education to their citizens: all the European countries as well as Norway, Sweden, Finland, Panama, Poland, Kenya, Turkey, Egypt, and more.
In the US, on the other hand, most students go deeply into debt for their college educations.
After they finish, our students choose from nine private loan servicing companies to send them bills, collect their monthly payments, handle changes of address or unemployment issues, etc. Each company has different rules, amounts to pay back monthly, and partial loan-forgiveness systems, resulting in savings of $10,000 and more you pick one instead of another.
The problem is, it takes more than a college degree to figure out which loan repayment company to use and to keep from getting reported as delinquent on your payments.
The Obama administration had developed a plan to streamline that system with a single portal for billing via the Department of Education, but Betsy DeVos signed an order this week to rescind that plan.
https://www.nytimes.com/2017/04/14/business/dealbook/education-department-federal-student-loan-program.html?_r=0
Thank you to Stacy Cowley and Jessica Silver-Greenberg of the New York Times Business section for their report on DeVos's plan to redesign student loan repayment.
Here are the comments of one man they interviewed:
Curtis Pyle, 36, of Aurora, Ill., said he wrangled for months with his servicer, Great Lakes, over the details of his
income-based repayment plan
and how his earnings should be calculated. Last year, when the Consumer Financial Protection Bureau solicited public comments on
a new, streamlined form
the government was considering to help borrowers understand their repayment options, he
wrote
to enthusiastically support the plan.
As it stands now, he said, "it's like a maze."
As a former college teacher, I know how hard it is for some students to pay for college. Many work part-time or in some cases full-time while taking a full load of courses. Of course, they don't have enough time to study and write papers and prepare for exams.
But each dollar they don't have to borrow is a dollar they don't have to pay back later.
After graduation, many find it difficult to find a full-time job with a decent salary.
They don't need to go through the confusion of figuring out which loan repayment company to use.
You can help by taking part in the Resistance Recess sponsored by MoveOn.org, in which people are meeting with their congressional representatives during their spring recess. Ask them not only to preserve the Affordable Care Act but to prevent Betsy DeVos from taking the planned new stream-lined debt repayment plan away from our college graduates.