Thanks to my journalist-in-residence for passing along this compilation of praise for the Obama presidency.
Los Angeles Times: The 44th president was

a conscientious and intelligent leader who espoused humane values
, inspired millions of Americans and successfully fulfilled some of his most significant promises.
San Francisco Chronicle:

This was a presidency that made America proud.
That it accomplished only a modest fraction of its aspirations is not a sign of failure, but a reflection of its audacious ambition and a measure of the power of the checks and balances in our system when an opposition party controls one, if not two, of the other branches of government.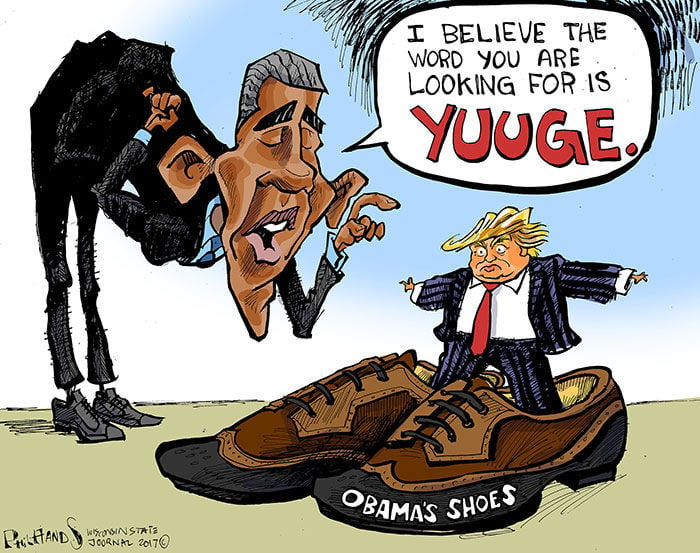 by Phil Hands, Wisconsin State Journal
The San Jose Mercury News: We'll grasp the "audacity of

hope" that the best of the Obama legacy will endure
– and that Donald Trump and the Republican leadership, having won control of the presidency and the Congress, will learn grace in victory. Maybe find their way to that high road. It's not a bad place.
Miami Herald:

Obama has done far better than his critics will ever admit
, and we as a nation are all the better for it. Thank you, Mr. President. But let us not forget that his very presence in the Oval Office has left this country heartbreakingly divided, a part of his legacy that's not of his making.
Minneapolis Star Tribune: When confronted with big problems, Obama attempted big solutions.
He lived out the ideal set by poet Robert Browning, that "a man's reach should exceed his grasp."
This was a president who reached high
, and Americans can ask no more of their leaders than that.