Why blog?
I've written 585 posts since I started this blog six years ago on July 24, 2008, but most of the posts have been looked at by only a handful of people.
Why do I continue to write and post?
There are two answers.
One was voiced by E. B. White over fifty years ago: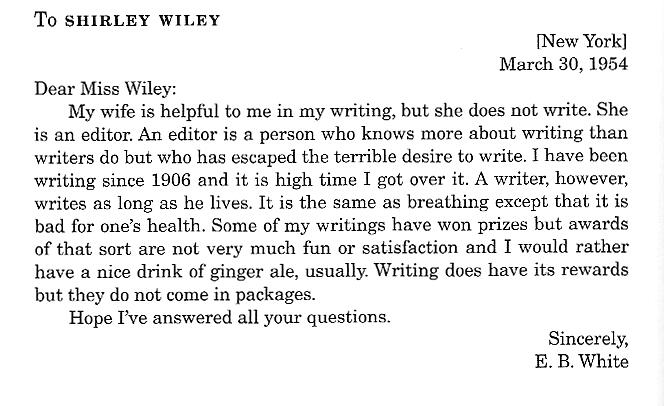 Thank you to Shaun Usher for posting this letter from E.B. White on his Twitter feed and for including it in his book, Letters of Note.
http://www.amazon.com/gp/product/1452134251/ref=s9_psimh_gw_p14_d0_i1?pf_rd_m=ATVPDKIKX0DER&pf_rd_s=center-2&pf_rd_r=1KTVVKG16VRKXH8FRKA1&pf_rd_t=101&pf_rd_p=1688200382&pf_rd_i=507846
Thank you also to John Arthur for reporting this great tweet to me. As a retired editor and newsman, he reports the news to me orally from his armchair 24/7.
Like White, I can't stop writing. My nature is to think and feel and then write, hoping to find an audience for some of the things I have written.
The other answer just came to me today: I can write for my future grandchildren.
Never mind that my daughters, nieces, and nephews today could care less about anything I post on this blog.
There's a chance that after I am gone, some granddaughter some day will want to know what her grandmother was like as a person.
These posts will tell her what I loved and hated and thought.
To you, my dear, I give my love and my reflections as a woman raised in the 20th century and growing old in the 21st century.
I also give this blessing: may you live and love and reflect on the world around you.
May the humans and animals and trees continue to find ways to live together on this fragile planet.